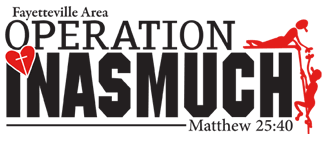 Cumberland Community Foundation is pleased to manage the Fayetteville Area Operation Inasmuch Endowment!                                          
The Fayetteville Area Operation Inasmuch Endowment is a charitable fund that was created at Cumberland Community Foundation, Inc. to support the mission of FAOIAM forever. By partnering with CCF to take care of the investment and management of their endowment, the staff of FAOIAM is able to focus more on their important mission, message and programming!
A gift to the FAOIAM endowment helps ensure the following programming is available not just today- but also for future generations:
BREAKFAST - Since its founding in 2006, FAOIAM has served hundreds of thousands of hot, nourishing, home-cooked breakfast meals to thousands of homeless and struggling people on weekdays. The breakfast program includes a comprehensive range of humanitarian resources and services. These include distributing mail, hygiene products, haircuts, and doctor visits on a weekly basis.
THE LODGE - The Lodge focuses on providing a multi-phase job-program for homeless men ready to conquer recidivism, rejoin the workforce, and regain independence. FAOIAM provides a place to sleep every night, financial planning meetings, Bible studies, and other helpful opportunities for these men to get their life back on track.  
FRINK STREET - The Frink Street housing program transitions Lodge members into homes FAOIAM has built or renovated in a once neglected historic downtown neighborhood. Frink Street residents maintain employment and sobriety while they prepare for an independent future. FOIAM attains funding through donations from churches, local businesses, and the community – along with grants and private foundations. A community-wide volunteer army of thousands reinforces the ministry staff of nine.
Give now to support Fayetteville Operation Inasmuch forever. 
Cumberland Community Foundation, Inc. is a 501(c)3 charity. Our tax id is 58-1406831.  All gifts are deductible to the extent of the law. 
Cumberland Community Foundation is audited annually and has been confirmed in compliance with National Standards for U.S. Community Foundations.