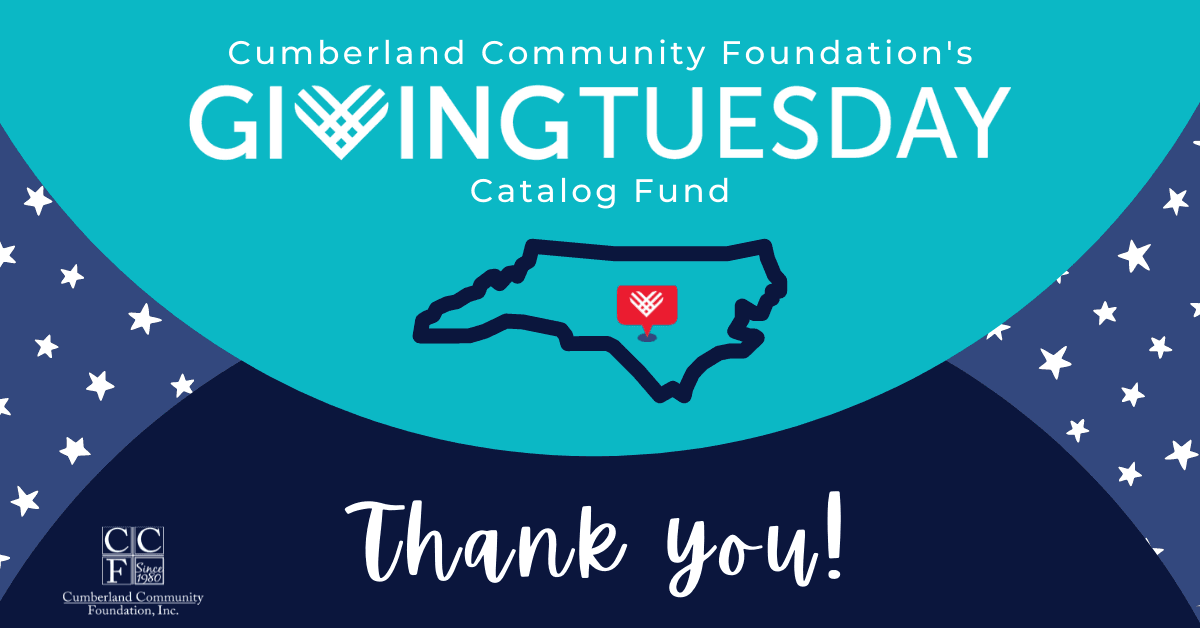 The Giving Tuesday Catalog Fund is now closed. 
THANK YOU to everyone who contributed to this campaign in support of 67 local nonprofit organizations! We are thrilled to share that - thanks to this community's commitment to giving local - the campaign has raised a total of over $1.2 million from the public! With the matching gifts of $400,000 made possible by CCF, the Manning Family, and the Fayetteville New Car Dealers Association, this brings the grand total to an amazing $1.6 million raised so far! What an impact that will have for the nonprofit community here in Cumberland County. 
Note: As of 12/1/2021 we are still working on entering the gifts that came in the door this afternoon, so these exciting numbers will continue to grow. Check back here periodically for final results. 
If you have any questions about Giving Tuesday or Cumberland Community Foundation in general, please contact Donor Services Manager, Cameron Sims, at Cameron@CumberlandCF.org or call 910-483-4449 ext. 107. 
---
Participating Nonprofits: 
82nd Airborne Division Association, Inc.
Action Pathways, Inc.
Airborne & Special Operations Museum Foundation
American Red Cross - Sandhills Chapter
Armed Services YMCA Fort Bragg
Arts Council of Fayetteville/Cumberland County
Autism Society of Cumberland County
Better Health of Cumberland County, Inc.
Boys & Girls Clubs of Cumberland County, Inc.
Cape Fear Botanical Garden
Cape Fear Regional Theatre at Fayetteville, Inc.
Cape Fear Valley Medical Foundation, Inc.
The CARE Clinic
Carolina Collaborative Community Care (4C)
Center for Economic Empowerment & Development (CEED)
Child Advocacy Center, Inc.
Communities United for Youth Development
Community Concerts of Fayetteville, Inc.
Connections of Cumberland County, Inc.
Cool Spring Downtown District, Inc.
Cross Creek Cycling Club (C4)
Cumberland Choral Arts
Cumberland County Communicare, Inc.
Cumberland County Coordinating Council on Older Adults, Inc.
Cumberland Disaster Recovery Coalition
Cumberland HealthNET
Cumberland Residential and Employment Services & Training, Inc.
Ellington-White Community Development Corporation
Employment Source, Inc. DBA ServiceSource
Falcon Children's Home & Family Services
Fascinate-U Children's Museum
Fayetteville Animal Protection Society, Inc.
Fayetteville Area Habitat For Humanity
Fayetteville Area Operation Inasmuch
Fayetteville Cumberland County Continuum of Care on Homelessness
Fayetteville Family Life Center, Inc.
Fayetteville Justice for Our Neighbors
Fayetteville Police Foundation
Fayetteville Symphony Orchestra, Inc.
Fayetteville Urban Ministry, Inc.
Friends of the Cumberland County Public Library, Inc.
Friendship Community Gardens, Inc.
The Gilbert Theater
Greater Fayetteville United, Inc.
Greater Life of Fayetteville
GroundSwell Pictures, Inc.
Heritage Square Historical Society of North Carolina, Inc.
His Outreach Worldwide, Inc.
Lafayette Society, Inc.
Massey Hill Heritage Preservation Project
Miller's Crew, Inc.
Moore Street Foundation
Museum of the Cape Fear Historical Complex Foundation, Inc.
Myrover-Reese Fellowship Homes, Inc.
Operation Blessings of Fayetteville, Inc.
Partnership for Children of Cumberland County, Inc.
The Rick Herrema Foundation, Inc.
The Salvation Army - Fayetteville
Sandhills Family Heritage Association
The School of Hope
Stanton Hospitality House, Inc.
Sweet Tea Shakespeare, Inc.
United Way of Cumberland County
Veterans Empowering Veterans
Vision Resource Center
YMCA of the Sandhills, Inc.
Youth for Christ - Fayetteville, Inc.