Summertime Kids Grants Program
Every summer since 1992, the Summertime Kids program has helped more than 1,000 youth have life-changing summer experiences. Many of these youth are from low income families and underserved communities. All donations benefit recreational, enrichment, and mentoring activities for youth in summer camps that are offered by local nonprofit organizations, neighborhood groups, and other community groups.
Cumberland Community Foundation selected nonprofit organizations as long time partners to provide these programs. At this time, no additional partners are being added. 
Cumberland Community Foundation currently supports eighteen exceptional programs.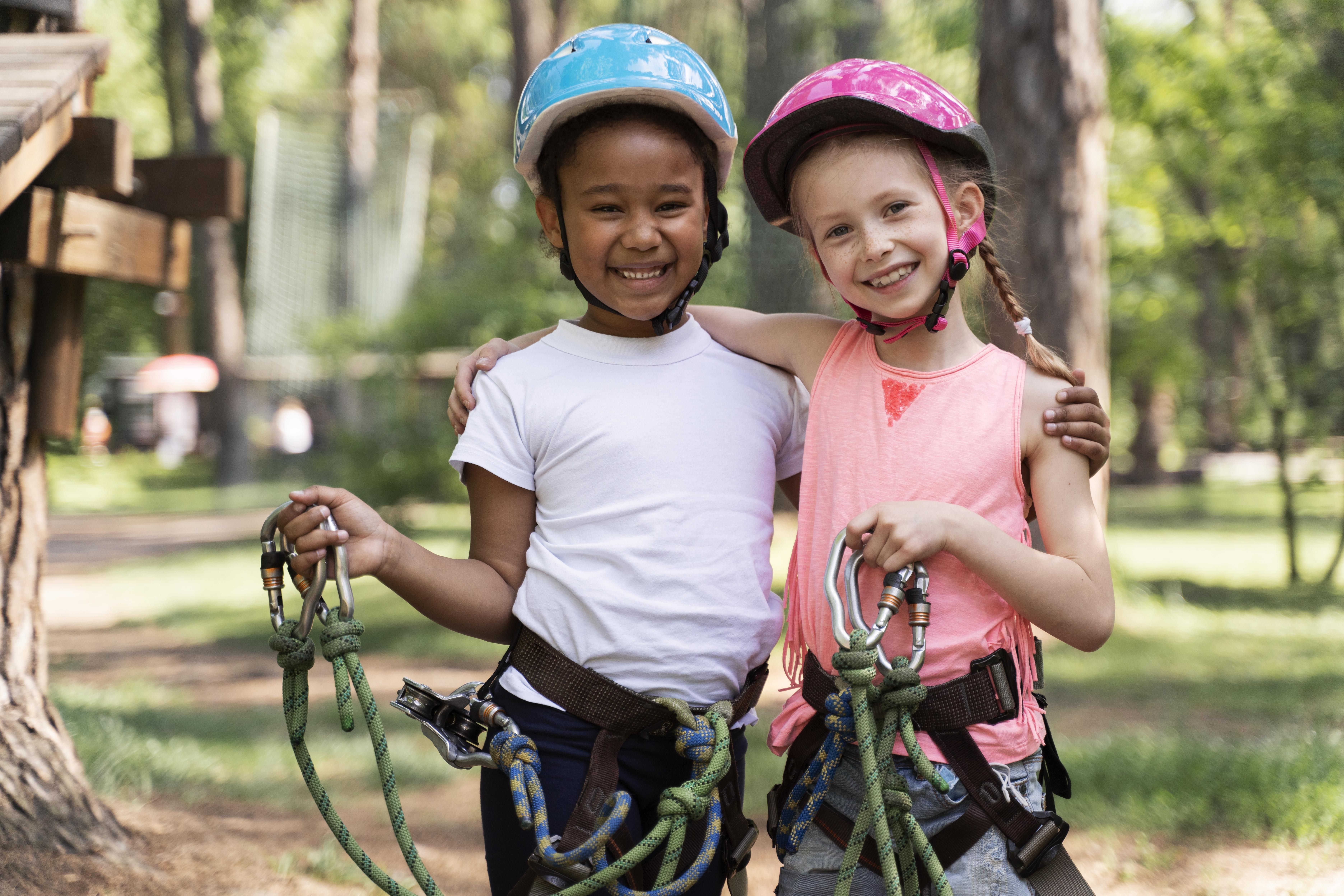 Aquatics Swim Camp - City of Fayetteville/Cumberland Parks and Recreation

FCPR Swim Camps focus on developing the four basic swimming strokes, promoting water safety, and providing a safe environment for fun and leisure. Youth swimmers will develop their skills while experiencing a highly social environment fostered by positive role models in the community. The camps include swim instruction, games, and safety skills. Each camp runs for 4 days with two camps running per week.

Boys and Girls Clubs of Cumberland County- Summer Discovery Program

Boys & Girls Club Summer Discovery Program Monday - Friday from 7:30 am until 6:00 pm. The campers will take part in programs in the areas of Education & Career Development; Health & Life skills; Character & Leadership Development; Sports, Fitness & Recreation; and the Arts.
910-425-3825
www.ccbgc.org

Cape Fear Botanical Garden-Summer Camp

Cape Fear Botanical Garden's summer camp instills a love for nature in children ages 4-15 through outdoor explorations, science experiments, art experiences and nature activities to nurture their creativity and boost their confidence. Engaging activities include catch-and-release of tadpoles, creating terrariums, making nature journals, and meeting a turtle. Several one-day camp sessions and seven one-week camp sessions will be offered with topics including Garden Sprouts, Nature Art, and STEAM Camp.
910-486-0221
www.capefearbg.org

Cape Fear Regional Theatre-Summer Theatre Camp at CFRT

Cape Fear Regional Theatre's Summer Camps provide local students age 6-19 with dynamic performing arts opportunities. Every year, hundreds of students participate in Summer Theatre Camp to learn about theatre disciplines including acting, music, and dance in preparation for live performances. In the process, they experience improvements in their reading and comprehension skills, public speaking, and collaboration, as well as their mental, social, and emotional wellbeing. Summer 2023 offerings include the world premiere of "The Adventure of our Lives...So Far!" (6-9 year olds), Aladdin (10-14 year olds), and Sister Act (Teen Summer Stock).
910-323-4233
www.cfrt.org

Clark Park Nature Center, Lake Rim Park, and Mazarick Park – Summer Camps (Fayetteville-Cumberland Parks and Recreation)

Children ages 5-13 years old are exposed to nature and outdoor recreation activities such as primitive survival skills, archery, fishing, canoeing, kayaking, hiking, and geocaching. The participants gain a deeper understanding of the natural world while making new friends, building self-confidence, increasing science literacy and enjoying the outdoors.
910-433-1579
www.fcpr.us

Communities United for Youth Development – Sports with a Twist

Communities United for Youth Development - Sports with a Twist (Math – Science – Reading) camp is a three week camp that is open to youth 1st through 12th grades. Campers will explore the important role of math, science, and reading in sports. How mathematical modeling is used in sports will engage students in learning about different sports and open the path for participation in sports. Areas that will enhance learning are: diet and nutrition athletes must follow; the misuse of drugs; endurance training; physical requirements and mental health. Exploring biographies of outstanding athletes will build reading skills. Campers will engage in sports activities for a fun camp experience while learning.

Cumberland County Public Library – 2023 Summer Reading Program – "All Together Now"

Name of Summer Camp/Program - The 2023 summer reading program theme, "All Together Now," serves children from birth through Grade 5 and teens in grades 6 through 12 at public library locations. Through funding from the Cumberland Community Foundation, participants from partner camps also benefit as they receive a minimum of two age-appropriate books and a book bag to use during future library visits. The summer reading program encourages children and teens to read over the summer break to combat the summer slide.
910-483-7727

Ellington-White-ART ON MY MIND Summer Program

ART ON MY MIND: Understanding Culture through the Visual Arts for high school age youth, has the dual goals of expanding adolescent's understanding of visual arts and its many roles in our society, as well as developing a new generation of art advocates and leaders. This program provides participants with the tools to better understand art mediums, appreciate art in all its forms, and have a better eye for selecting art through hands-on-projects. Participants also gain needed skills through lectures and field trips to the arts venues in Fayetteville/Cumberland County. Instruction provided by professional artists, Cumberland County Schools art educators and university visual and performing arts professors.
910-483-1388

Fayetteville Flyers Track Club: Fayetteville- Cumberland Parks and Recreation

The Fayetteville Flyers Track & Field program exposes youth to exceptional training and competitive opportunities. Participants receive instruction three (3) evenings a week for one and a half (1.5) to two (2) hours each evening. Participants also have the opportunity to participate in local and regional track meets, including the state, regional, and national championships.

Fayetteville State University- 2023 Space Camp

The FSU Space Camp is for rising 7-12th grade students. We are part of the NASA Astro Camp program and will focus on space exploration with our Rockets and Robots program. During this week-long camp (9:00 am – 4:00 pm) we will learn how rockets work, build, and launch them. Students will program robots to perform missions in a simulated lunar environment. Students will also explore space in the updated FSU Planetarium. FSU Space Camp is out of this world!
910-672-1926

Fayetteville Urban Ministry – Find-A-Friend Summer Achievement Camp

Find- A- Friend Summer Achievement Camp will celebrate the achievements and enrich the lives of at-risk & court-involved youth on a weekly basis through a variety of educational, cultural, and recreational activities. This camp will allow youth to experience activities that will be a mixture of education and fun activities. Such activities field trips to the Zoo, Aquarium, the African American Museum, etc. Our achievement camp runs Tuesday, Wednesday, and Thursday for 6 weeks and the time of operation for our camp is from 7 am - 7 pm.
910-483-4661

Greater Life of Fayetteville- "I Am YOU-nique"

Since 2016, the organization has hosted a Five- week summer program for "at-risk" youth rising grades 1st - 8th, struggling academically and demonstrating social behaviors throughout the school year. The population is low to medium-income based families. The program hosts 20 to 25 youths with two educators, three assistants, one counselor, and a program director. The program includes: vocals, cultural dance, a historical community art project, an Etiquette Affair activity, organic gardening, various field trips, visits come community leaders and collaboration with other organizations, one community parent & child workshop, and concludes with "Through My Eyes Street Fest, displaying the artistic artistry of each youth. The target objectives are math, reading, science, language art, journaling, teamwork, music, and building self-confidence. The program is at no cost to eligible families.

Moore Street Foundation - Adventure Zone Summer Reading Camp

Adventure Zone Summer Reading Camp (AZSRC) is a safe, caring and learning environment for four weeks that focuses on embracing the love of reading books with comprehension and vocabulary building. This summer camp serves children in elementary school. AZSRC+ additional emphasizes are on character education & team building skills in Science, Technology, Engineering and Math (STEM) development. The fun aspect of summer is provided through enrichment classes, activities and field trips while awakening their creative side with the arts, music and crafts. There is plenty of opportunity for outdoor play and physical activity. Breakfast and lunch is served to the children daily.
910-483-6507

Museum of the Cape Fear Historical Complex- Pirates! Summer History Camp

Ahoy Mateys! Campers will set sail for adventure on the coast of North Carolina! Learn about fierce pirates like Blackbeard and Anne Bonny, build a lighthouse, wear pirate's clothing, taste sea rations, and hunt for treasure.
910-500-4243

Rockfish Camp and Retreat Center-2023 Summer Time Kids Day and Resident Camps

Camp Rockfish is proud to offer a dynamic, adventure-filled, Christ-centered, small group summer camp for campers of all faiths and backgrounds. Day Camp is offered for campers ages 5-14, and Resident Camp has offerings for children ages 5-18. Whether campers are flying through the air on the zipline, enjoying the multiple water-based activities, or practicing their patience with target sports such as archery, Camp Rockfish ties together faith, friendship, and fun for an unforgettable summer experience. All campers also participate in daily worship, an outdoor/environmental education class, crafts, sports, and age-specific games that you will only find at camp.
910-425-3529

Salvation Army- Red Shield Summer Day Camp

Our Summer Day Camp provides a safe place for kids to play, learn, and socialize in a loving, Christian environment. Our Camp is an enrichment program for school-aged children in grades K-8 that aims to help build character, and improve/build self-confidence, and includes educational activities, weekly themed activities, arts and crafts, weekly field trips, daily organized recreation, and daily motivational/devotional thoughts. Our camp runs for 10 weeks (June 5-August 11), Monday through Friday, 7:45 am-5:15 pm
910-483-8119
www.salvationarmycarolinas.org

The First Tee of the Sandhills-Summer Golf Camps in Cumberland County

This summer, First Tee - Sandhills will offer multiple half-day camp options in Cumberland County. Youth will learn new golf skills and valuable life skills, have fun through creative games, and get the opportunity to make new friends! Some camps will also incorporate STEM education, exposing participants to all the different ways Science, Technology, Engineering, and Math are involved in the game of golf! Golf equipment is provided, and scholarships are available.
910-255-3035
www.firstteesandhills.org

Vision Resource Center-"Out of Sight" Youth Summer Camp

"Out of Sight" Youth Summer Camp Explosion is a summer camp for blind and visually impaired children that will host a variety of activities to enhance social and independent living skills while strengthening confidence, courage, friendships and creating a spirit of adventure.
910-483-2719